For the construction of the hospital barracks in the Hummelshainer Schlosspark, an extra camp for 85 forced laborers is set up in the restaurant "Goldener Hirsch". Some of them were housed at the same time at the place of work, in the castle park.
In order to cope with the ever-increasing number of patients, the management of the "REIMAHG" rented the New Castle, owned by the Vogel Verlag in Pößneck, as of August 1944. The castle was set up as a hospital and in the castle park six barracks for the forced laborers, as well as a morgue were built. Under catastrophic hygienic conditions, lack of medicines and constantly overcrowded, the death rate among the 1,088 patients, including 980 foreigners, was correspondingly high. A total of 175 forced laborers died in the hospital.
The medical staff included 4 doctors, 2 assistants, 3 laboratory technicians, 13 paramedics and 35 DRK (German Red Cross) nurses who came from all over Germany. In mid-April 1945, after the liberation by the U.S. Army, the "REIMAHG" hospital was continued as the D.P. (Displaced Persons) hospital until August 1945.
In 1947, on the orders of the Soviet Military Administration, a children's and youth home was established here for children and adolescents between the ages of 6 and 21. Later, the home housed young people between the ages of 14 and 18.
From 1952 to 1992, the premises were used as a home called "Ehre der Arbeit (Honour the Work)", which was considered a flagship institution in the GDR. Around 5,500 young people lived and learned here. Today the castle is in private hands. Since 1998, the "Schloss Hummelshain" association has been working for the renovation and preservation of the castle, supported by the state of Thuringia.
In front of the castle there is a small monument to the former hospital and the dead. The dead were now rest in an honor field with a memorial stone, next to the municipal cemetery.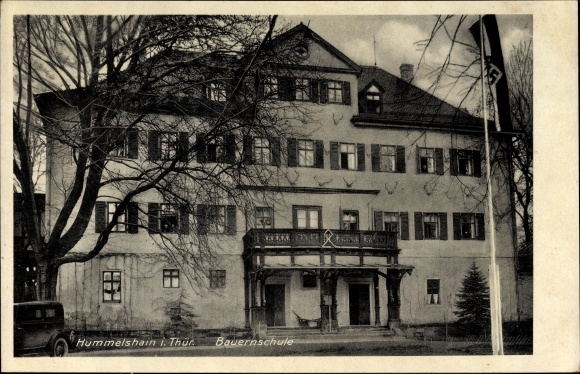 NURSING HOME /BAUERNSCHULE
The DRK sisters who worked in the hospital were quartered in the nearby "Old Castle". After the expropriation of the Duke in 1918, the Old Castle was used as a recreation home and from 1935 as the "Reichsbauernschule". After the Second World War it served as a tuberculosis care home, later as a nursing home for the elderly and nursing homes.