For several years we have been trying to sensitize the schools in Kahla to the topic of "regional history on site", but there was hardly any response. Seminar papers were written by students from other cities. We were all the more astonished when we were contacted by the "Leuchtenburg" high school.
Mrs. Meier and Mrs. Kirchner, teachers of an 11th grade, remembered our offer and asked for a 3-day history project with 36 students. We agreed and worked together on various project topics in detail.
The knowledge basis for the project days and the work required with them was getting to know each other, introducing them and dealing sensitively with the multifaceted topic of the former REIMAHG armaments factory. Theory and practice are mutually dependent here, form a symbiosis and so we went on a discovery tour by bicycle on the same day in the most beautiful sunshine. The fact that the young people were actually interested was shown by their continued enthusiasm and the many questions. They knew the name of the work but not the story, so they were all the more astonished at what actually happened here in 1944/45 and how many interesting stories there are about it.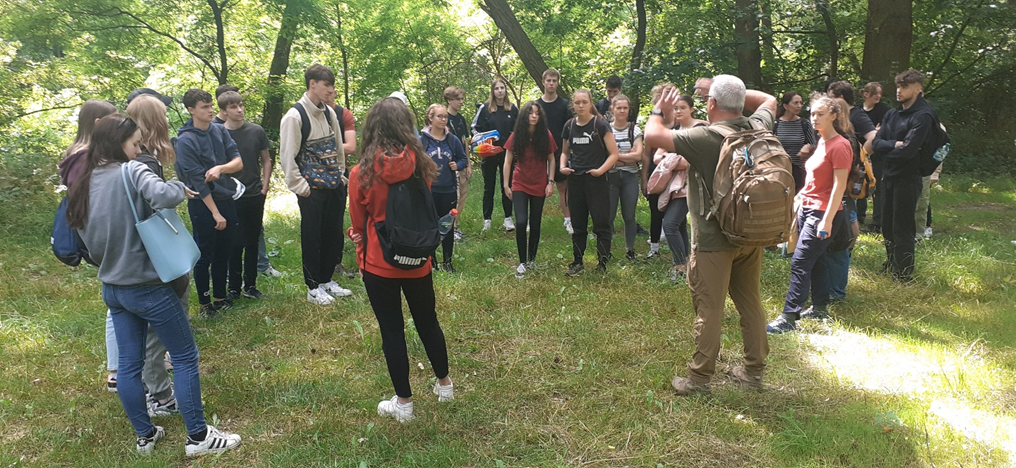 Spurred on by what we heard, we met the next day on historical grounds. Divided into several interest teams, equipped with all the necessary working materials, folders with plans, photos, protocols, documents and daily reports, the young people went to work full of enthusiasm and guided in the respective activities. This included, among other things, the search for artifacts in former camps, their restoration and background research, as they all tell a personal story. The surveying and mapping of building remains on prepared documents, as well as the uncovering, cleaning and restoration of memorial stones as well as the documentary accompaniment of all project work. On this day, we saw young people who were full of enthusiasm.
The last day of the project, to the great regret of the young people, took place in the high school. We reviewed the past 2 days in conversations and opinions, showed and explained the photographic enlightenment and history of the work on the basis of historical film footage and documented the artifacts found. The project days ended with a special act of remembrance, each young person described or painted a small stone with a personal message, which was then placed at the memorial monuments. Intended as a sign that the young people from Kahla can take care of the local history and understand it in the right context.
We would like to thank all the students, Mrs. Meier and Mrs. Kirchner, Mayor Jens Hild and Ronny, the community workers/Großeutersdorf. Thank you also for the delicious invitation to lunch, organized by students and teachers together.